An open source call center software is a solution to assist you to deal with your business' incoming and outbound telephone operations. Here is the list of the top 10 open source call center software to assist you. 
What is a Call Centre Solution?
Exceptional customer service is something that distinguishes the world's most successful businesses. Customer satisfaction is not just their ultimate objective, but also a top priority for them.
Customer satisfaction and engagement are the only goals for which both incoming and outbound contact centers strive to achieve excellence in the resolution of client inquiries and the maintenance of customer relationships with a single focus. It is at this point that the Call Center Software comes into play.
A demanding undertaking that needs excellent technological assistance is customer relationship management (CRM). As a result, contact centers make use of technology to provide clients with an exceptionally pleasant experience.
Call center software is a technology that supports call centers in streamlining, micromanaging, and expediting their day-to-day operations, ultimately improving the overall customer experience and reducing costs. This program is jam-packed with features that streamline the procedures involved and decrease the amount of human labor required.
How to select the most appropriate free or open source call center software for your organization?
This list of considerations will help you make a more informed selection about open source call center software:
Take into consideration the size and expansion of your company. Small firms with a low call volume can benefit the most from call center technologies that provide only the most basic functionality.
Consider the knowledge level of your employees
When training new employees, a basic call center tool with fewer capabilities can be easier to master than a more complex tool with more capabilities. On the other hand, a more complicated tool can be acceptable for employees who are already familiar with your selected software.
Updating cost and expenses
Make sure you know how much it will cost to improve. It's critical to understand the paid pricing models of each call center product you're considering, as well as any upfront expenses associated with using the product. The price structure of certain suppliers can be subscription-based (monthly or annual billing), whilst others can demand one-time yearly licensing dependent on the number of users.
Interrogate about integration options
Inquire about integration possibilities. One significant advantage of using a call center solution is its ability to collect client information from a variety of sources, such as your existing CRM system. Before making a purchase, be sure to inquire with the software vendor about whether or not their solution interfaces with your existing tools.
Top 10 Open source Call Center Software 
1. Bitrix24
For those searching for extremely advanced, all-featured call center software that is completely configurable as well as being completely free and open source call center software, Bitrix 24 is the only software available that fits the bill in this area. Your whole call center can be benefited from this one-stop solution for all of its requirements. 
It comes with a slew of features and cloud storage that will impress even the most jaded user. In addition, it possesses soundtracking and broadcasting capabilities. It is available as a desktop application as well as a mobile application. It is completely free for up to 12 people, with storage space of 5GB, 100 call recordings each month, and 1000 emails included.
Pros
It is highly versatile and can partially automate your marketing efforts. 
Effective communication facilities.
Cons 
It is hard to set up and use for beginners.
It lacks Agile management features. 
2. VICIdial
VICIdial is a completely free contact center software application. It is free call center software open source that can be used for any contact center solution. The main screen is available in 16 different languages, and there are alternatives to simply build a customized version of the interface. The fact that everything is displayed on a single screen is the cherry on top. They also provide a forum where you can get answers to your questions. A single display is used to demonstrate powerful predictive dialer capabilities. 
Pros- 
It can run on Linux and non-proprietary hardware. 
It has extensive API's and hence it is easy to interface using this. 
Cons- 
Clustering the server is difficult without proper expert knowledge. 
Call recordings get mixed therefore it is not suitable for Al analysis.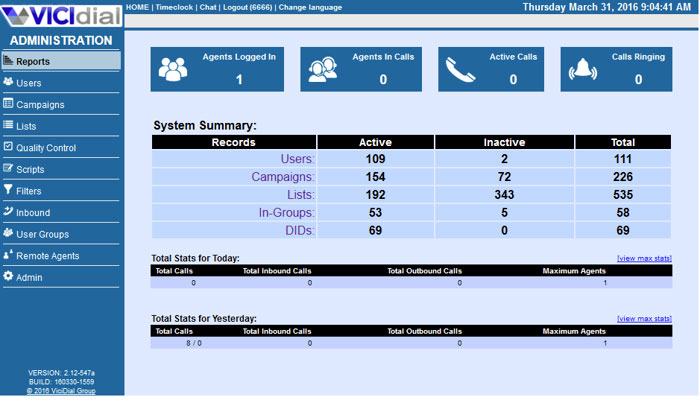 3. Ekiga 
For video conferencing, instant messaging, and softphone functionality, Ekiga is a free and open source call center software that is commonly used by call centers. It is compatible with several codecs. It is simple to use. Users will receive a free SIP address. It enables you to make audio and video conversations with anyone in the globe who has a SIP address. you can also checkout the SendMyCall call center
Pros
It is easy to install and configure. 
It is capable to work with Voice over IP. 
Cons
It lacks an account configuration system. 
It also lacks important functions like Call binding. 
4. OrekaGPL By OrecX
OrekaGPL is a free call center software open source that is widely used. Almost all contact centers record calls for the aim of training and improving customer service. To do so, they must have reliable software that records phone calls and keeps the information safe. Oreka GPL makes it possible for call centers to do so.  
There are no further costs when the system is implemented. It provides an interface for Voice over Internet Protocol (VoIP). It is possible to personalize the system. In its present state, this open-source recording project supports VoIP capture as well as sound device capture. Calls that have been recorded are saved in a database and can be accessed on the internet.
Pros 
Software is easy for team members to review calls and export recordings, etc. 
As the size of the recording file is less, so there is no issue with storage. 
Cons
 The basic version interface is not easy to customize. 
It will not record if any variable is brought into the equation (for example, DNS difficulties).
5. Linphone 
If you're looking for strong VoIP software for your call center, your search should always conclude with an open source contact center software, Linphone. Linphone Desktop 4 is a sophisticated audio/video calling platform for advanced calling in professional areas and can be used both inside the company as call centers for connection to individual customers. It is a protocol-based platform for calling and record keeping. It works for mobile and desktop applications.
Pros 
It is an open-source application, so it is auditable and secure. 
Easy to have many SIP accounts in the same software and swap them extremely rapidly.
Cons
It does not have a call forwarding button. 
It only supports few languages. 
6. Asterisk 
The Asterisk communication system should be your first pick if you are looking for a communication solution for your call center. It is possible to use Asterisk as a comprehensive call center software open source communication system. Asterisk is a prominent call center software that is used all over the world. Asterisk is a free and open-source telephone system. 
Pros 
It is easy to set up and interface-friendly. 
Using this software, you can customize everything. 
Cons 
Documentation is not sufficiently adequate. It is difficult to find a solution if you have an issue. If you don't safeguard the server, your server can pass through large phone traffic. 
It is extremely difficult to set up the services, and it is even more difficult to maintain the security of the application without the use of additional security software or hardware.
7. V Mukti 1.1 
VMukti 1.1 is a comprehensive solution for both inbound and outbound contact centers. This open source call center software was developed using an open design and is compatible with all common standards such as the ITU, IETF, and others, among others. 
Moreover, for using this free call center software you don't require proprietary gear or software. The system offers several strong features such as comprehensive statistics and machine identification to encourage data-based decision-making. 
Pros 
This program features a predictive dialer, and it takes less time to wait.
It is a Web-based call center system that eliminates the need for hardware investments.
Cons 
This application is only available for Windows OS.
The mobile software version is not available.
8.GoAutodial 
Users could create a phone system for their contact center using Goautodial, an open source call center software. Additionally, it has a highly strong predictive dialer as well as an Automated Call Routing system.
Pros 
CRM interface that is simple to utilize. 
Functionality is enhanced by using this cloud-based service. 
Cons 
Several softphones are incompatible with it.
When there is a problem with connectivity, the software's features can deteriorate.
9. Elastix
Elastix is an open source call center software that is used to configure unified communications systems. Aspects of the unified communication that Elastix offers include telephone capabilities, a mail server, instant messaging, a fax server, Voice over Internet Protocol (VoIP) communication, and video conferencing.
Pros 
It is fully customizable because it is open source. 
It allows the connection of analog telephone lines. 
Cons 
Installing the software is very time-consuming. 
Network issues can reduce voice quality. 
10. CallHippo
CallHippo is a next-generation business phone system that makes it easier to communicate with your clients. CallHippo is simple to use while providing comprehensive functionality through the use of complex features such as Power Dialer and Automatic call distribution, among others. CallHippo also allows for simple connectivity with other third-party CRM applications, allowing for more efficient customer service administration.
Pros 
This software is easy to set up. 
Improved and enhanced control of access. 
Cons 
The interface is not appealing to some users. 
You will have to use different voice software for recording voice. 
Also Read:- 8 Tips to Help with Secure Software Development
Conclusion 
Keep in mind that consumers are the most precious assets a company has, as well as the most demanding stakeholders a company can have. It is the consequence of the relationship component that businesses have with their consumers which determines their customer lifetime value (CLV).
A call center help desk is the initial point of contact for your customers, and it is here that they will gauge your level of devotion and responsibility towards them. A long-term value proposition for the company is created by investments in customer service solutions. It is never a bad idea to invest in technology that aid in the management of client interactions
Note:- SendMyCall call center